Yes, I am still getting caught up on all my blog reading (and some times a little slow on the "up-take") .. but slow and steady wins the race right?
I am Very new to blogging and through getting caught up I have learned what a Blog Party is.
Mrs. B at Confessions of a Pagan Soccer Mom
is having one! ( and I have some catching up to do on this one too..lol ) For her Blog Party she has gone retro in Febuary , hence the name Retro Cooking Month. so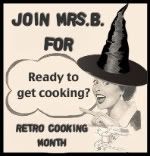 It truly sounds like a blast with all the cooking challenges, giveaways and neat stuff I am reading and learning..you know , I could spend the whole day on Mrs. B's Blog!
( But like i said , I have some catching up to do yet!)
Blessings one and all
Ma Fey